PUBLISHER: ©BASIC Media Company LLC
COVER: Rachel Johnson || BASIC Paradox
SIZE: 160 Pages of Fashion, Art & Photography Goodness. The #Paradox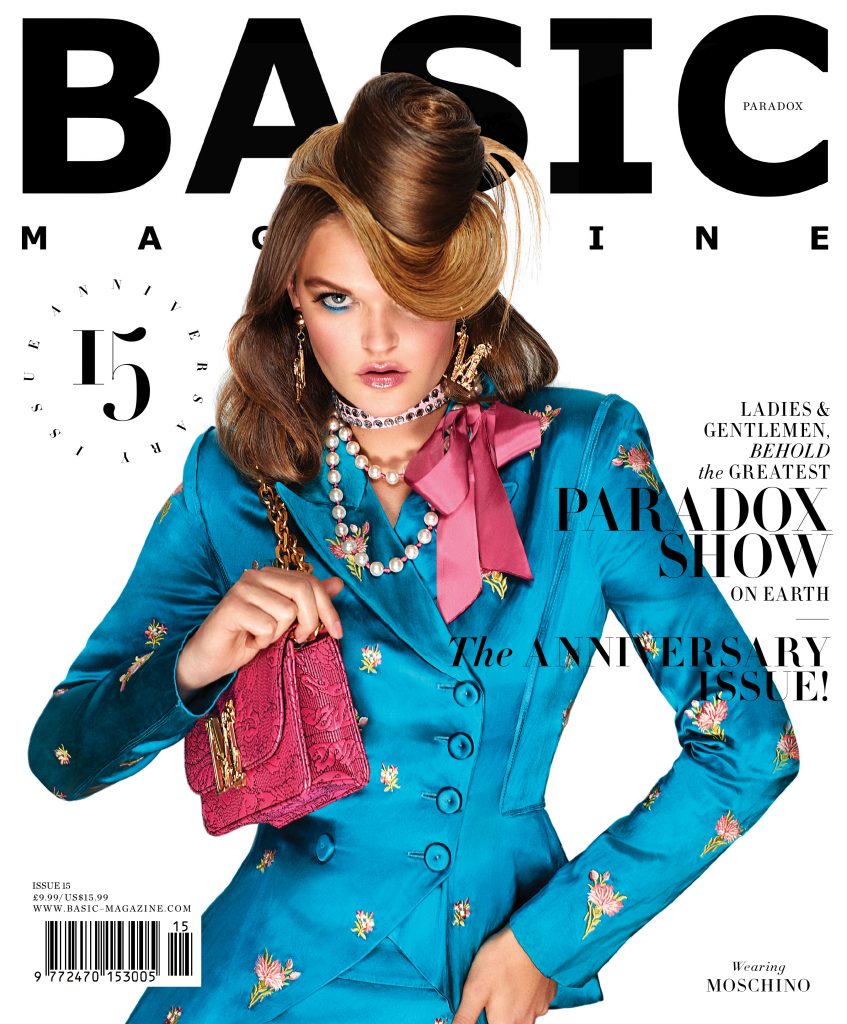 BASIC 15th Anniversary issue is released in 4 covers: MICHELE MORRONE, KEKE PALMER, CIRCUS PARADOX and RENE GRUAU
BASIC COVER STORY Rachel Johnson in Moschino photographed by Viktorija Pashuta. Michele Morrone photographed by Raffaele Grosso, iconic fashion illustrator Rene Gruau photographed by Vincent Alvarez. Keke Palmer photographed by Mike Ruiz
BASIC FASHION Photography & Editorial Spreads: Circus Paradox photographed by Viktorija Pashuta, Sweet Nothing photographed by Diana Gomez, Digital Bloom by Jeanne Dart, Birds of a Feather by Nina Hawkins, Wild Spirit by Viktorija Pashuta, Lost Boy by Lester Villarama, Five Elements by Viktorija Pashuta, Lockdown Extravaganza by Mike Ruiz
BASIC BEAUTY Fragile Oddity photographed by Adam Peterson
BASIC LOOK BOOK Eukono, Ichiro Suzuki, Orange Culture
BASIC ARTISTS Dulcie Yamanaka, Anja Van Herle, Ole Aakjaer, Laura H. Robin
BASIC CHARACTERS interview features: Johannes Yaruraak aka Hungry by Milena Braune, Ryan Burke
BASIC DESIGNERS Mochino, Tommy Hilfiger, Blonds, Aranyani, Aliel, Okhtein, Odeem, Rula Galayini, Tsatsas, Siigii, Keya Martin, Jessan Macatangay, Kyle Ho, David James, Yarden, Sammi, Aaks, Aura, Bil Arabi, Ammanii Jewelry, Mrs. Keepa, Sara Melki, Jessica K, L'Atelier Nawbar, F&W Style, Amanyz, Dirrty Store, Emmy Kasbit, MWR Collection,
BASIC MUSIC Keke Palmer by Mike Ruiz, Ava Max by Charlotte Rutherford
BASIC PROJECT Shibari Mermaids by Renee Robyn
*** Based in Beverly Hills, California BASIC Magazine™ is a first-class visual and editorial publication that features carefully curated content with a strong independent voice, named 'very clever and progressive fashion magazine'. Published quarterly, its pages are inspired by a blend of heroic artists, visual masterpieces and themes of strength that set the tone for each stylistic issue. It is a contemporary, elegant and inviting world that men and women can both relate to and aspire to be.