In her sculptures and installations, California-born artist Tauba Auerbach often plays with the flux state between two and three dimensions. Her latest project continues in this vein: It's an oversized pop-up book called [2,3] that contains six die-cut, geometric paper sculptures. Its pages unfold to reveal a gold-and-white ziggurat, a pyramid composed of nesting triangles, a sphere of intersecting paper circles, and elegant latticed arches. Director Sam Fleischner filmed the book's dramatic unboxing.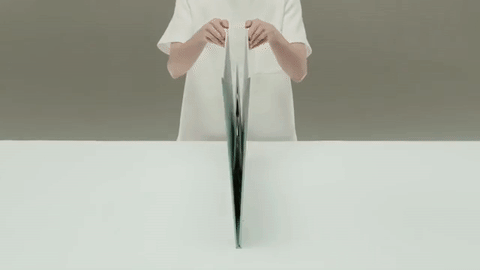 Auerbach isn't the first to turn the pop-up book, usually found on children's shelves, into an objet d'art. It's standard practice in the world of origami and book arts. In 1967, Andy Warhol collaborated with Random House to create a pop-up book featuring paper spoofs of his famous artworks, including cardboard can of Hunt's tomato paste. Designer Marion Bataillemade a pop-up book for typography nerds; German artist Johann Volkmer makes minimal, elegant pop-up wall calendars. [2,3] is also also reminiscent of Pop-Up Op Art, a recent book that translated Op art pioneer Viktor Vasarely's dizzying works into collapsible paper sculptures. But more than these examples, [2,3] looks like something you'd want to leave open as a shape-shifting display instead of keeping it collapsed on a bookshelf.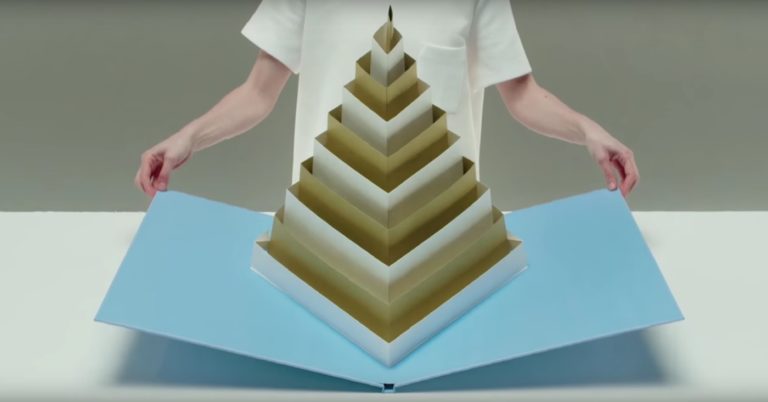 Published by New York-based art book press Printed Matter, [2,3] is available in a signed and numbered edition of 1,000, plus 100 proofs.
Source: Nowness  via Hiperallergic