An Interview with Bai Ling
Words By Kelli Kickham
Photographer Viktorija Pashuta
Wardrobe Stylist Jesse J.
MUA Vincent Tran
Hair Victor Mendoza
Producer Cory Tran
Manicurist Jolene Brodeur
Photographer's Assistant Erik Santibanez
Bai Ling is an international superstar who possesses a touch of magic. This strong, beautiful, feminine creature lights up the screen in every role she takes on. Known for starring in controversial projects such as Red Corner, Ling continues to journey into the lives of new characters, with titles such as City Limits and Everlasting on the horizon.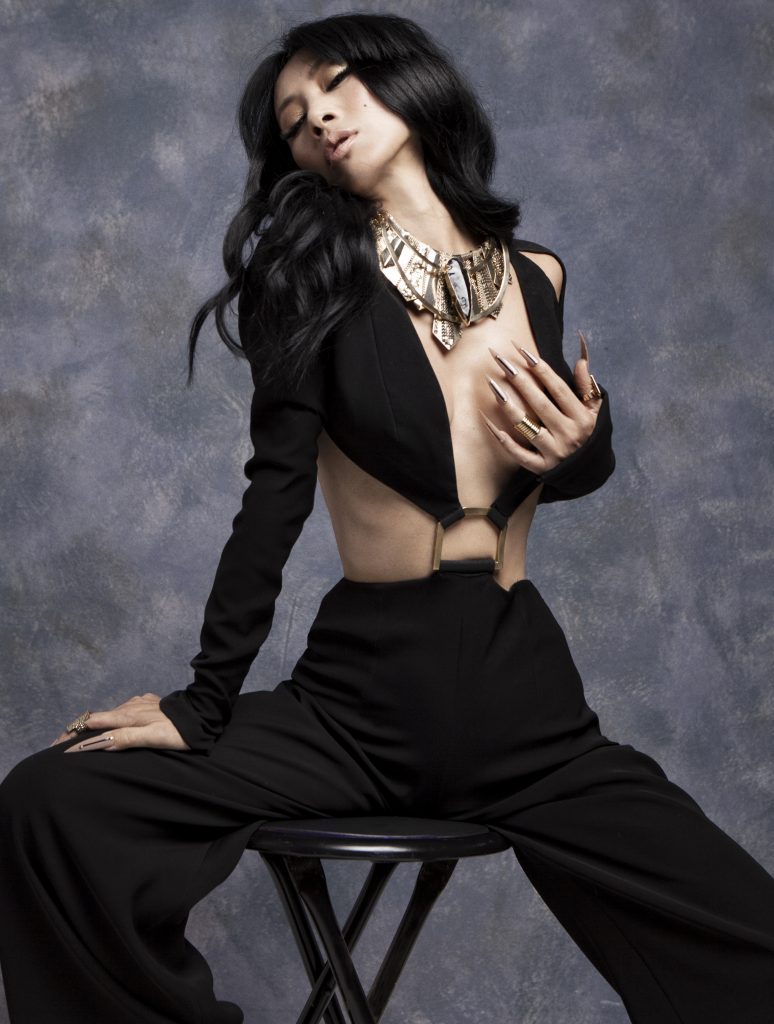 You often play a strong fighter on film. Which actor has been the most fun to "beat up" on screen?
The most fun person to beat up was Jude Law in Sky Captain and the World of Tomorrow. Our director said to me, "Bai Ling, please be very careful because I know how good and crazy you are. Just don't hit Jude Law's face no matter what you do because we have a lot of close ups to shoot with him." So when the fight scene started, the director didn't want me to hesitate and I ended up hitting him right in the forehead! But it all worked out okay. It was fun working with Law because he is sharp and so good at what he does.
One of your most dramatic roles to date was in Red Corner, opposite Richard Gere. In fact, that is the role that really got you noticed by American audiences and critics. Did the role take a lot of mental and emotional preparation?
That was my very first leading role in Hollywood. I think in a way, yes. But the most challenging thing for me was not the mental and emotional preparation, but my English ability, as at the time, I didn't speak English at all. To me, it is always things outside of my acting ability that I spend the most time with.
"MY JOURNEY IS MY JOURNEY. IT IS ALL A WONDERFUL EXPERIENCE IN LIFE TO LIVE AND FEEL THINGS THAT EVEN AT TIMES, ARE EXTREMELY DIFFICULT."
Red Corner is also the film that resulted in you losing your Chinese citizenship. Did you have any regrets about making the film?
My journey is my journey. It is all a wonderful experience in life to live and feel things that even at times, are extremely difficult. I created a beautiful, emotional, intelligent character that is rarely seen on screen by a Chinese actress in a Hollywood studio movie, and I am proud of that. I want the western people and the world to know and see that there are intelligent, strong, yet feminine Chinese women out there in the contemporary world today kicking butt.
Was there ever a specific role you had a certain intuition about, even before filming? Maybe you went into the audition thinking the character just fit you so well, like, "This is me. This is mine."
I am so beyond that, I can make any role work. In fact, I've played a character that was originally written for a man. I have also played a few characters that were originally written for white female actresses, but through my audition, I got the roles. An example is the film, The Key. The leading lady was originally written for a white actress, but I got it. You need to think big in order for things to happen big. I feel if I want to, I can do anything! Often we limit ourselves by being so afraid of failure, only when we are daring then the magic happens.
You work on many action films with heavy stunts. If you could step into one of those character's lives for a week, which would it be?
I already do, as I am all the characters I play. They are all part of me; they are all real life journeys. Yet, there is a secret character that I am creating right now, and I think I'd like to be that character for a while.
You have many projects in the works including City Limits and Everlasting. Tell us a little about one of your favorite upcoming characters and why she is so intriguing.
I am interested in them all because they are all there waiting for me to begin the fun, unique journey with them. I am currently working on my own project and it can't be helped that this character intrigues me the most, and excites me the most, because it is so unique and a challenge for me to play. The character is against everything I am.
Outside of film, you've worked in television on projects such as Lost and Entourage. Do you have a preference between film and television?
To me, acting is like living life. There is no bigger or smaller. For me anything makes me happy. I am very lucky to live my life doing things that I love to do and I am grateful for the wonderful projects that come my way. I am grateful for the many talented directors, producers and actors who want to work with me.
"OFTEN WE LIMIT OURSELVES BY BEING SO AFRAID OF FAILURE. ONLY WHEN WE ARE DARING THE MAGIC HAPPENS."
You have done some recent work outside of acting in producing, music and writing. Do you think you will ever turn away from acting to pursue another passion?
I love acting because I am naturally so good at it and I can connect to my sexy, feminine side. For me, taking on the role of a director or producer plays more into my masculine side. And I would try those roles if I found a project close to my heart. I know I have a gift to give as an actress, so I would be happy to always be an actress.
Your fashion is exciting and eclectic. What is your favorite piece to date?
The ones that I created. One being at the Hollywood Film Festival where I wore the Hollywood sign as my skirt and a red key as my bra. I broke fashion concepts and rules. I wear messages, culture, history. It's my own art.