exclusively for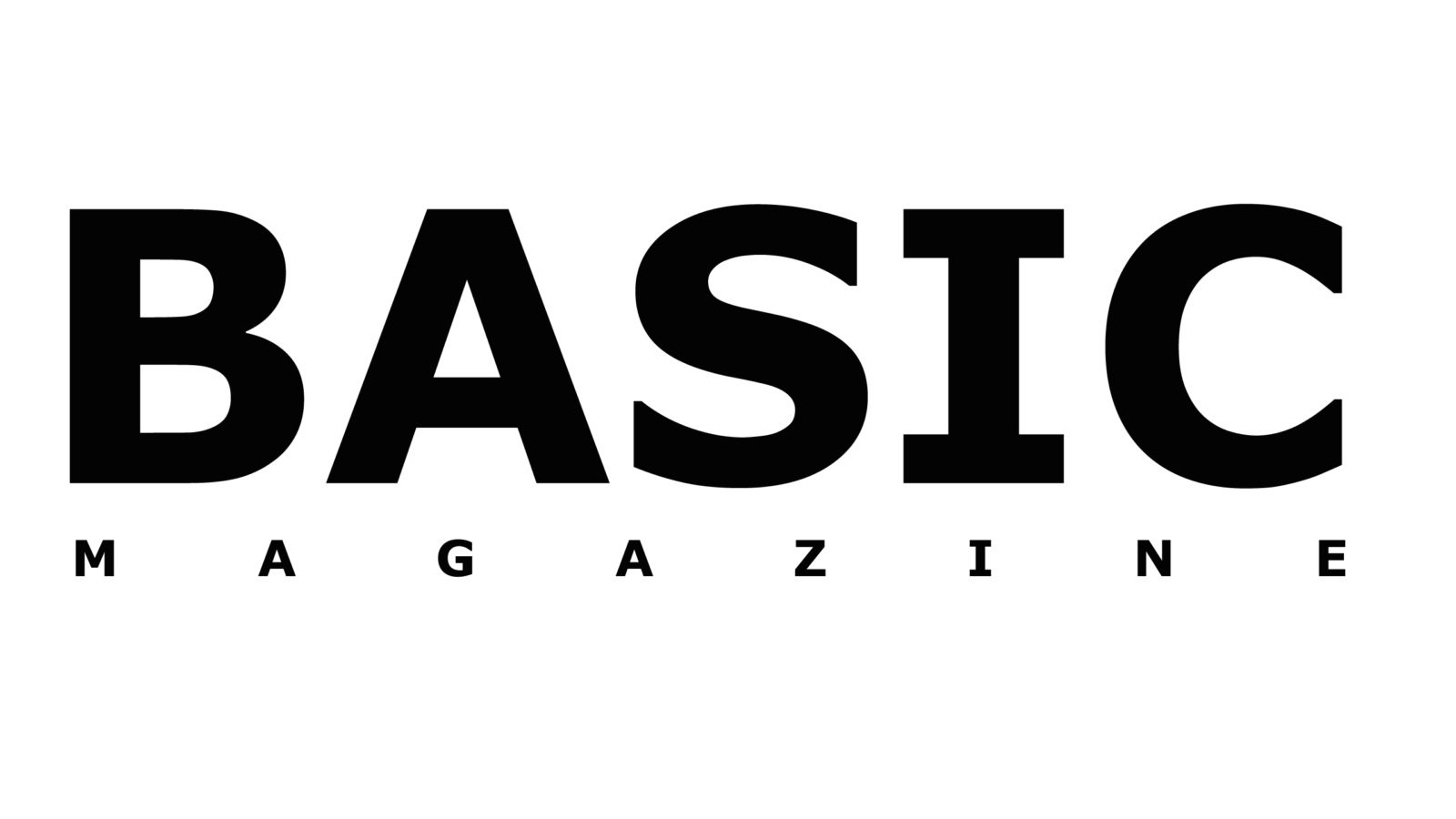 Once in a while Los Angeles-based fashion photographer Viktorija Pashuta creates concept viral photo shoots that gain worldwide exposure and huge buzz in social media. Famous for her conceptualized series 'What if Guys Were Social Networks', 'What if Cars Were SUPERMODELS' and 'What if Girls Were Internet Browsers' published in VOGUE, Esquire, Buzzfeed, Ads of the World, Complex just to name a few gained more than 2 billion hits online.
This time she has decided to create something a bit more different, a Fashion Mixed Media Project DOLLZ exclusively produced for the cover story of BASIC magazine, #VibezIssue.
Viktorija explains,
"This project is very unique as I am not sure that anyone else has ever created something like DOLLZ. The whole concept was based on the vintage paper cut dolls that were popular when I was a kid. And I thought to myself 'What If I take it a step further by enlarging paper illustrations, cutting them out and putting them in front of the real model?'
She the continues,
'Inspired by RESORT Collections 2017 from Runway shows of renowned fashion houses (like CHANEL, GUCCI, LOUIS VUITTON and MOSCHINO), I came across on Instagram a very talented artist Eris Tran and then asked him to turn iconic runway looks into fashion illustrations. That was the first step. Once the illustrations were completed – we needed to somehow print them out in life size. This is where it was so crucial to work closely with project's Creative Director & Fashion Stylist – Øye Decova. Øye in turn had to do a series of complicated calculations and measurements, making sure all of the cutouts would be printed in a proper size for the model. It was a layered process of cutting and gluing pieces to achieve the effect we were looking for. We are talking here about hours, days of work. I believe it took us about a month to prepare everything before the shoot. And then there is also detailed post-production and image coloring".
Some of the looks were also accompanied by 'real' items, like scarves, jewelry, shoes, stockings. The project combined all of the elements: fashion, art, photography, crafts, collage, copy writing and post production making it a true mixed media masterpiece.
"Imagine – continues Viktorija, to have cutout paper GUCCI bags and paper Moschino hats to play with, the whole team felt like we are on the PlayGround. It was awesome to feel like a kid again and that's what fashion is for. To me fashion is a beautiful fairy-tale that inspires, gives hope and reminds you it is never too late to DREAM'.
Video by Fine Dying Productions
"These are cardboard cutouts of the fashion illustrations put in front of the model that do look like real clothes"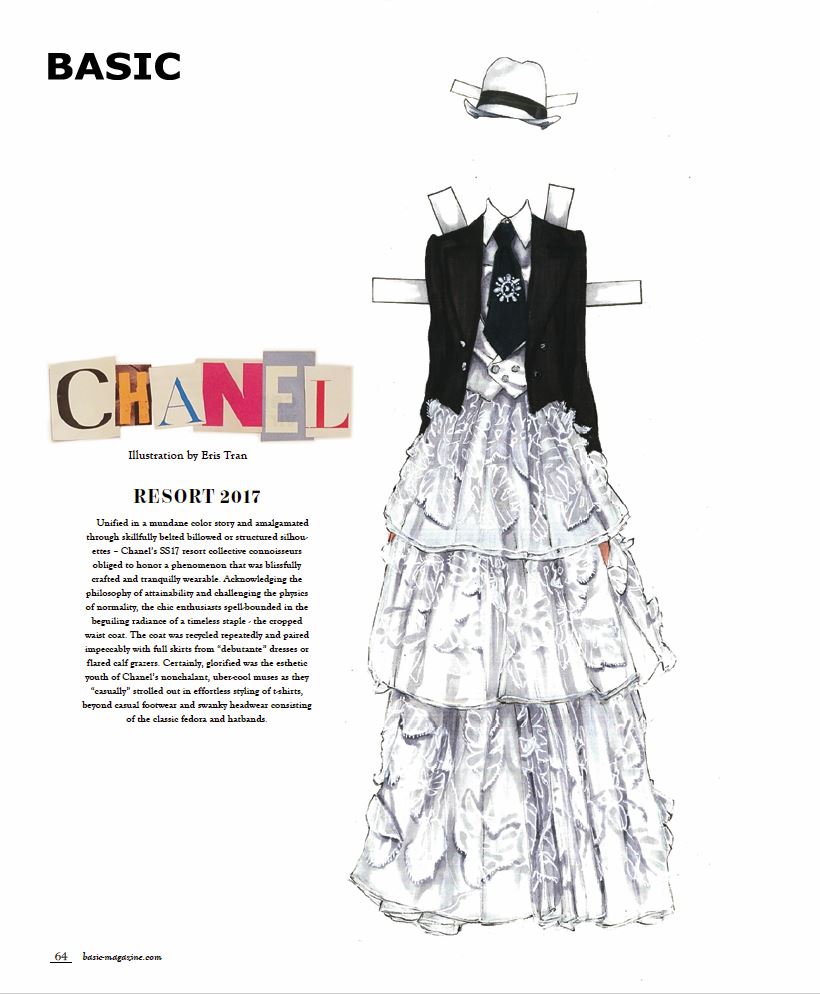 Fashion Illustration by Eris Tran, Words by Sonam Naidu
Unified in a mundane color story and amalgamated through skillfully belted billowed or structured silhouettes – Chanel's SS17 resort collective connoisseurs obliged to honor a phenomenon that was blissfully crafted and tranquilly wearable. Acknowledging the philosophy of attainability and challenging the physics of normality, the chic enthusiasts spell-bounded in the beguiling radiance of a timeless staple – the cropped waist coat. The coat was recycled repeatedly and paired impeccably with full skirts from "debutante" dresses or flared calf grazers. Certainly, glorified was the esthetic youth of Chanel's nonchalant, uber-cool muses as they "casually" strolled out in effortless styling of t-shirts, beyond casual footwear and swanky head wear consisting of the classic fedora and hatbands.
The fearless 'IDGAF' cheekiness of the flamboyant goths saluted the innovation of divine detailed, European culture and a beyond heterogeneous Victorian era for Gucci's SS17 resort punk parade.
Reassessing a blast from the past period, a fearless leader manifested the glorifying radiance of lace, lilac nylons valiantly worn with a silk printed dress. Congregating the territory of their streets, courageous members of the diplomatic party advocated in brilliant outerwear immersed in fiery hues and stunning applique craftsmanship. Evoking the celebration of political style, the "gothic sea of inspiration" was undaunted by immaculate accessorizing – voluptuous hats, tasteful socks tucked inside adorable strappy feet warmers and embellished handbags teamed with contemporary spectacles.
The unprecedented space invaders of Louis Vuitton's SS17 resort ocean front, triumphed the shoreline by salvaging the pioneering abundance of Sporty Spices' casual pride possessions. Cascading the breezy coast, the refreshing transformation of high-low cocktails incorporated structured bodices, knee-high slits and exotic splatters of color-blocking – magnificent yellows, tangerines and cobalt blues. The prodigy of over accentuating every Martian's silhouette, the simplicity of exposing much skin and the sleek arm candy of a boom-box radio, rehashes athletic wear into a fresh era of Posh's androgynous sophistication.
Exercising the print on pattern "more is more" aesthetic, captivating the extraordinary ultra- groovy "psychedelic" glam and celebrating the vivacious culture from nostalgic history, Jeremy Scott's Moschino SS17 resort funk fest was theatrically and literally LIT. From the commencement of the carefree pant suits harmonized in black and yellow zebra patterns to mesmerizing Indian mirror-infused wardrobe classifications, it all lured us back to the uber Californian, iconic 'Cher'era. And the brilliant Hinduism reference of the goddess 'Lakmi' who made her vivid debut on an imaginative cocktail cape dress was tastefully underplayed with brilliant blue platforms and an over-stated scarlet red umbrella hat. The colors were astonishingly breath-taking and the progression of animal ornamentations and classic retro daisy nod grew wilder and unrulier as the hippies wandered in their playful, exotic jungle.
BASIC PROCESS
*No part of this feature, including images & illustrations may be reposted, copied, shared on other resources without permission from BASIC Magazine info@basic-magazine.com