Los Angeles-based artist Benny Harlem has become an internet sensation. He is a powerful visual force, commanding attention just long enough to gift you with his beautiful message of peace.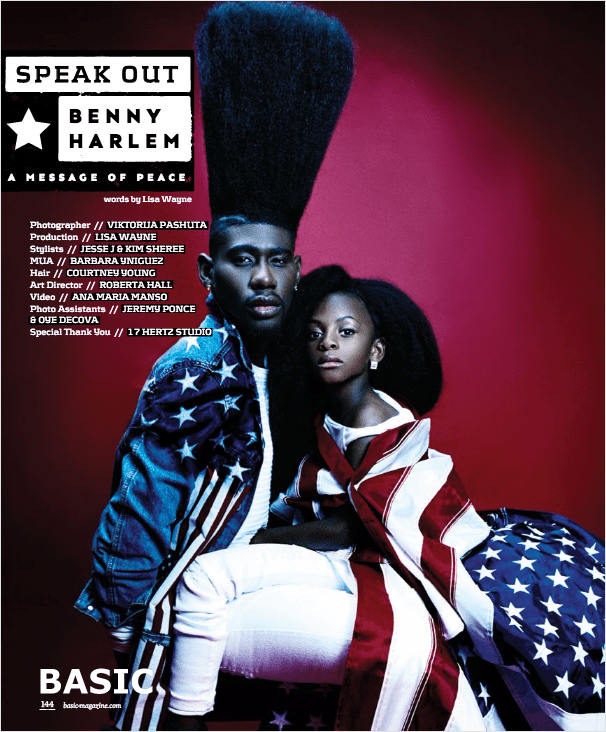 Known for his luxurious natural mane and iconic photos shoots along with his daughter Jaxyn, these images have captured our hearts. The visual message is pure joy at being a parent, more specifically a father, in a time when we desperately need more positivity towards strengthening the family unit. Standing at 6 feet 4 inches tall, Benny answers the call. Stepping up first in his local community to become a role model for young black men, he encourages them to take part in the joy that is being a father.
Sharing beautiful father daughter portraits of what that means to him, he teaches by example, reaching millions with his message. As you are drawn into Benny's world, the vibe is so sincere. His message is about taking pride in who you are, caring for your family and loving your fellow man, a simple concept this country, and this world, are aching for. Through his unique art, Benny is reminding us of those ideals we all hold so dear.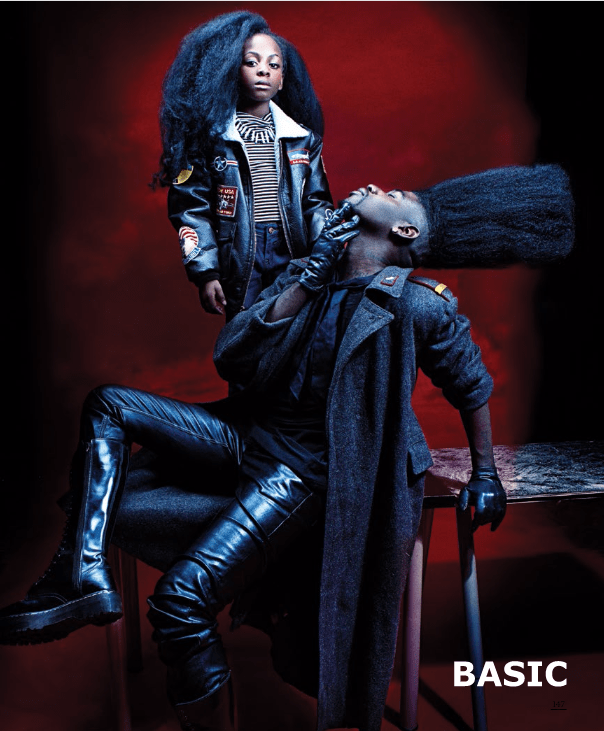 You have become a strong example of a positive male role model and father figure. How did this drive to uplift those around you come about? Who was your inspiration in your youth, your hero?

The more I believe in me the more I help others around me to believe in themselves. The more I learn the more I teach. Being that I didn't have many positive male role models that I knew personally growing up, I quickly had to find the father in me, I had to self-motivate myself and believe in me more than anyone else could. I had to let go of excuses and thoughts of why I couldn't become somebody and listen to the tiny voice in my mind of why I could. The older I grow, the bigger that voice becomes.

Watching my mother battle and conquer breast cancer when she was only nineteen years old taught me so much about strength and perseverance when you are against all odds. She was given four months to live and had me, I was four at the time, to raise and look after. I remember every single day of her fight with cancer and in the end she won. My mother is a survivor and hero, not only a hero to me but to anyone who knows her. My grandmother tried to confront her former husband, a crack addict, about stolen rent money and was choked and had her neck almost broken by him. She had to go to work, where she educated HIV Aids victims, the next morning. She never complained – she put on the most beautiful white Anne Klein suit draped in pearls and got through the day without anyone noticing anything from the awful night before. These strong women in my life are definitely my greatest heroes.

My daughter teaches me to say yes to love a little more every single day, she's one of my hero's as well.

Your daughter is lovely! What are your goals as a parent for her and in what ways do you aspire to help her on her journey to achieve success in life?

 

I want my daughter to be comfortable in her own skin. Go through her journey with wisdom, knowledge and optimism. I only want to nourish her invisible wings as they continue to grow. One of the lessons she's learning is to never make excuses. Excuses do not equal success, make the greatest decisions you can no matter what circumstances are.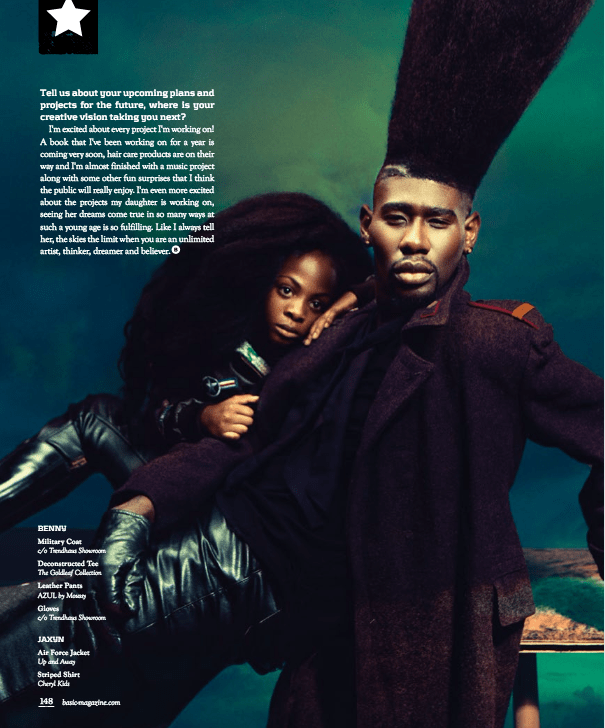 You are bringing a beautiful message of peace to the world. Currently the U.S. is aching for more of the words you are speaking. We are in the throes of vast political divide and just recently, more hatred and racial tumult has flared up once again. What words do you offer on the state of the nation to inspire others?
The only cure for fear, hurt, pain, hate and racism is the medicine of love. I'm sending comforting energy and light to any soul that may be grieving or experiencing heartache of any kind right now during these trying times. As long as you're blinking it's not over – as longer as you're breathing you are safe. God loves you and so do I.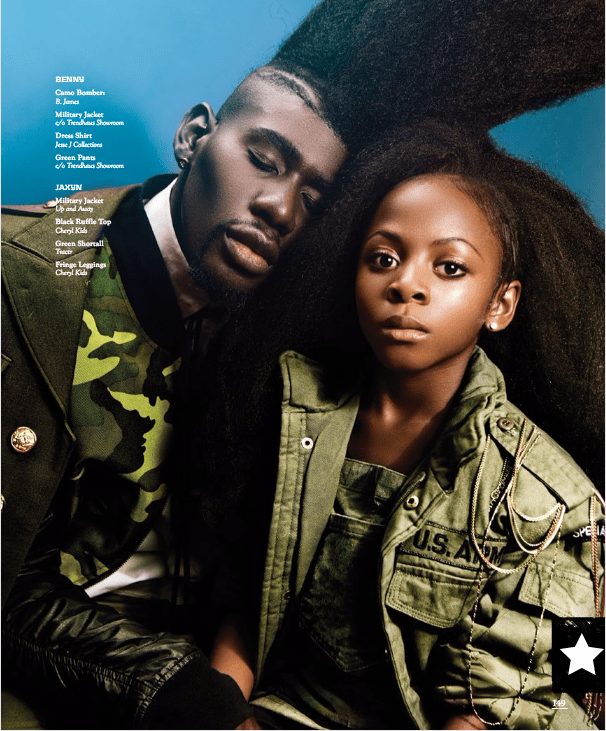 Benny – Camo Bomber – B. James, Military Jacket – c/o Trendhaus Showroom, Dress Shirt – Jesse J Collections, Green Pants – c/o Trendhaus Showroom. Jaxyn – Military Jacket – Up and Away, Black ruffle Top – Cheryl Kids, Green Shortall –Tractr, Fringe Leggings – Cheryl Kids.
As a beauty editor, I'm very excited to have you share some of your shampoo making secrets and formulas. I understand you make everything yourself.

I try not to put anything in my hair that I can't put into my body. Using homemade ingredients for my hair has helped me maintain it a great deal. I'm currently working on a project that will help people on their journey to growing healthy, lengthy, extraordinary hair as well.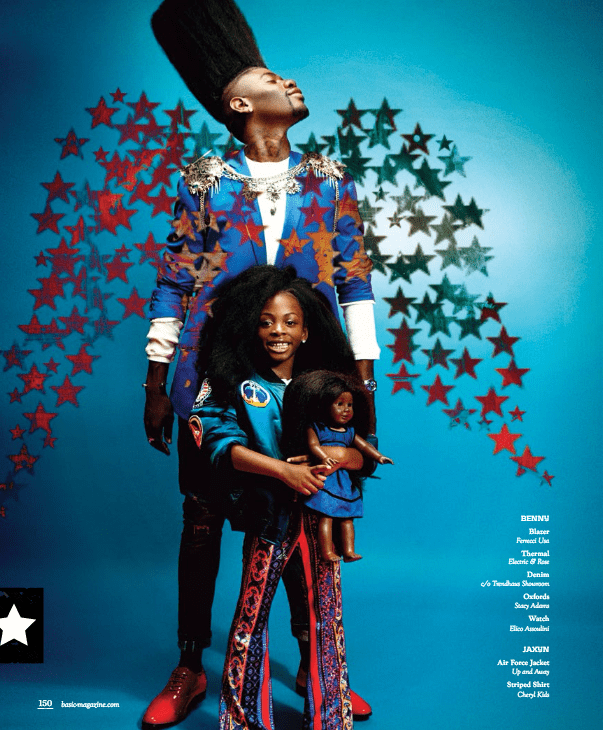 Benny – Blazer – Ferrecci Usa, Thermal – Electric & Rose, Denim – c/o Trendhaus Showroom, Oxfords – Stacy Adams, Watch – Elico Assoulini. Jaxyn – NASA Jacket – Up and Away, Top – Cheryl Kids, Flared Pants – Cruz, Slip On Shoes – Steve Madden.
Tell us about your upcoming plans and projects for the future, where is your creative vision taking you next?

I'm excited about every project I'm working on! A book that I've been working on for a year is coming very soon, hair care products are on their way and I'm almost finished with a music project along with some other fun surprises that I think the public will really enjoy. I'm even more excited about the projects my daughter is working on, seeing her dreams come true in so many ways at such a young age is so fulfilling. Like I always tell her, the skies the limit when you are an unlimited artist, thinker, dreamer and believer.
 Benny – Military Coat – c/o Trendhaus Showroom, Deconstructed Tee – The Goldleaf Collection. Jaxyn – Air Force Jacket – Up and Away, Striped Shirt – Cheryl Kids.