Words By Amanda Vandenberg @Amanda_mary_vandenberg
It's a summer morning in Los Angeles, and as the temperature surges to start its daily beat down of the city, inside a cool, windowless venue the beat of the music is just starting to swell. Stepping off of Santa Monica Boulevard and into Lady Delilah offers the casual time traveler a glimpse into yesterday's Hollywood. Art deco fixtures adorn a room that's all curves and no hard lines, where palm fronds reach to the ceiling, begging for corpse revivers to be sipped underneath. Like most things involving Shiva Safai, the scene exudes elegance.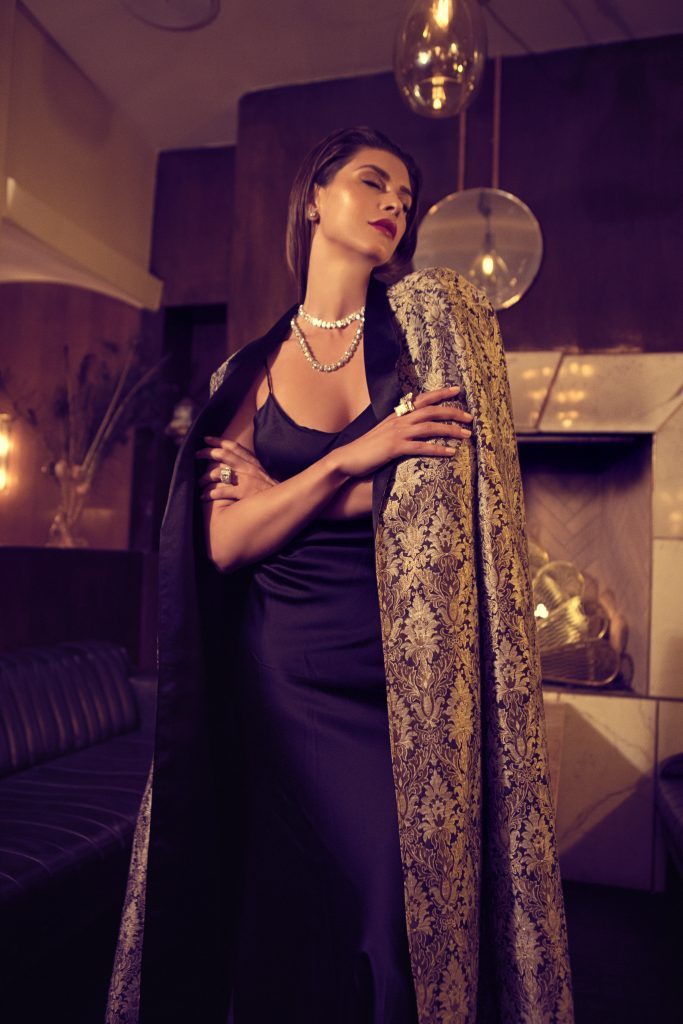 Dress Silvana Tedesco Couture, Cape Ainee Suhaidi, Jewelry Norman Silverman Diamonds
As the team frames its shots and sets the lights, Safai already sits poised in a makeup chair, the ambient electronica bouncing off the airy arches, blush settees, and champagne chandeliers in which she's unwittingly framed. She looks soft and serene, makeup-free and skin luminous. She's a vision, one that appears quite at home.
When Safai begins speaking, any pre-measured assumptions formed by public opinion immediately fall away as fabricated. She's rather warm, welcoming, delicately refined. She's quick to open up, chatting easily. She's had the practice. Fresh off her first season of Second Wives Club, Safai has stepped
into what was already a searching spotlight on her life. Or maybe magnifying glass would be a more apt term. Her much-publicized relationship with Mohamed Hadid has been ongoing for nearly five years and the curiosity for details has only intensified. After much hesitation, Safai took a leap of faith to put the most intimate parts of her life on nationally televised display. It was a nerve-wracking decision – in part with how quickly (and vocally) people feel free to judge her, especially with the age difference – and yes, she's sick of the question. But part of the choice was to show just how they worked, saying, "I've always felt mature for my age. This is a great dynamic between me and Mohamed. He's just so young at heart. We balance each other out." BASIC had the chance to get to know Safai before she stepped in front of the lens, learning a bit more about who she is on and off camera.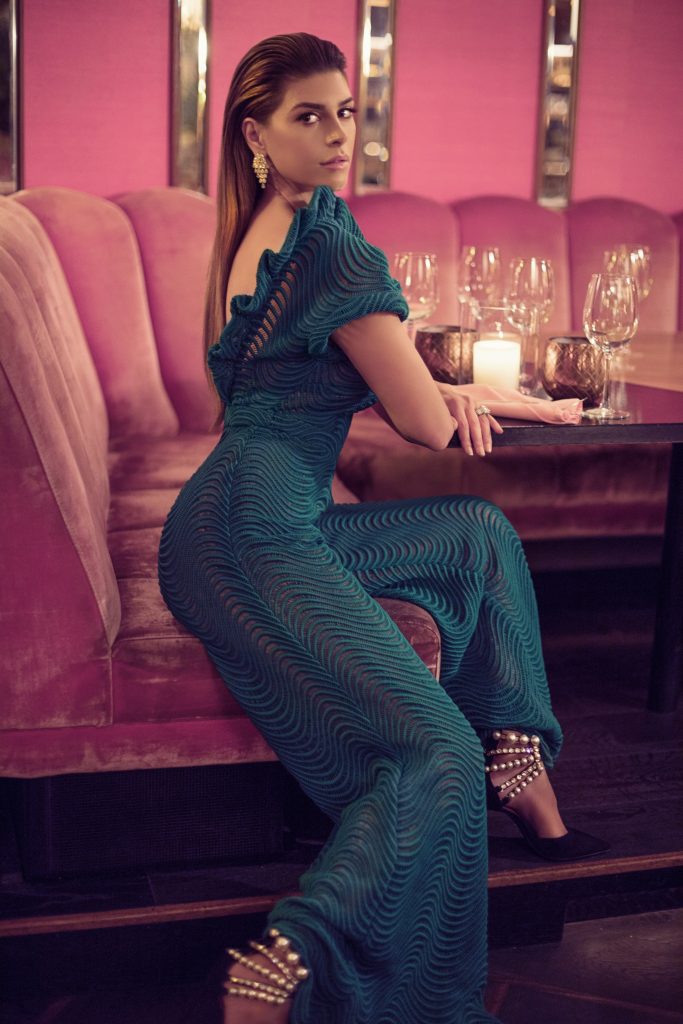 BASIC: The biggest question a lot of people have about reality tv – why? Why open yourself up like that?
It's scary to share your private life with the rest of the world. But with our families so public and already being so open on social media, I thought that this is a great way to show everyone who we are, why our relationship works, why our family dynamic works the way that it does. It was fun, it was different – it was the right fit for us. The rest of the women and I share common ground, that our husbands and fiancés have all been married before. The show blends family, our own ambitions, our independence. I trusted my producers that they were going to portray me as the person that I am and not make me look like someone else. That was so much of my hesitation – that I would be portrayed as someone else. They said, 'You just need to trust us, we want to tell your story.' I was surprised that it was such a fun and pleasant experience. It was the right decision.
BASIC: Did the show bring about any close friendships?
Some of us did bond a lot. It was great to have one another. Several of the women went through tough times during the show, and it definitely brought us closer. We are still in touch even though we've finished filming.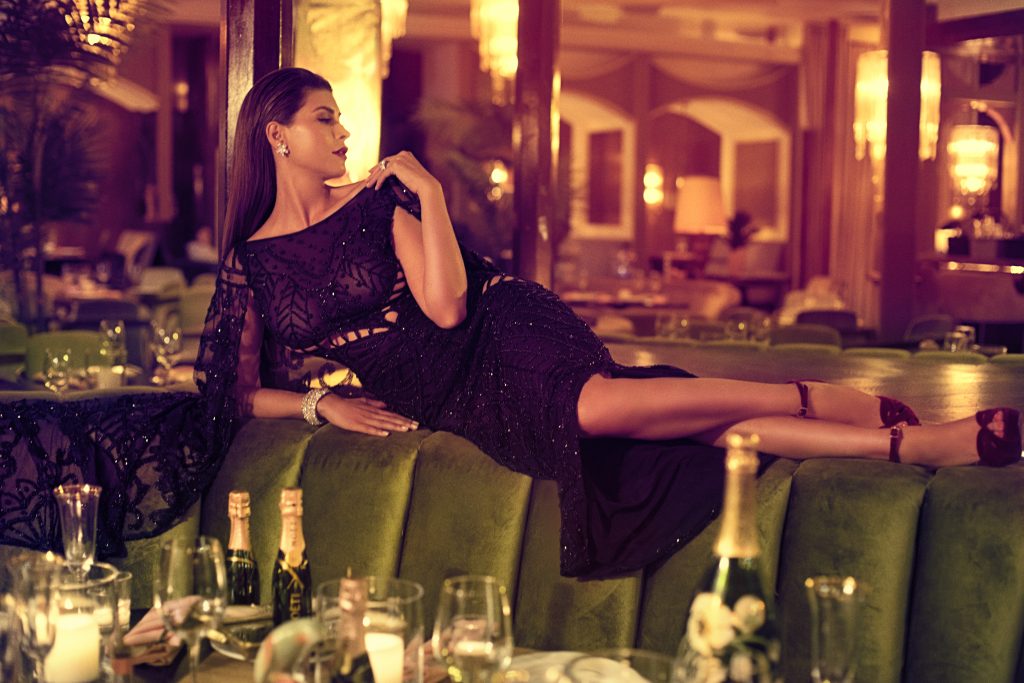 Dress Steven Khalil, Jewelry Norman Silverman Diamonds, Shoes De Blossom Collections Beverly Hills
BASIC: On television, you showcase this almost aspirational, lux lifestyle – your home, wardrobe, experiences – but you still remain really grounded and relatable.Is that important to you?
That's the thing – I haven't changed. I live in a bigger house and the lifestyle may be different, but I'm still the same girl. I like to be hands-on, do things myself, cook and cleanup. None of that has changed. And I'm so family oriented. Above everything else is my family. I'm very close with my own and to Mohamed's. Our values are the same. I absolutely love to gather friends and family in our home to create memories, laugh, share stories. It's always a good time, whether it's a party of five or of fifty.
BASIC: Now that your life is moving at this whirlwind pace, do you find yourself to be more of a planner, or do you take things day-by-day?
Before, I was definitely more of a planner. But I learned that as life throws you curveballs, you just can't plan everything. If God has other plans for you – it's going to happen, right? And after I met Mohamed, I learned the importance of enjoying your life in the now rather than worrying about or planning for a future you can't guarantee. I guess deep down I'm still a planner, but not as regimented as before. I'm learning to embrace the day-to-day and enjoy the moment.
BASIC: Are you planning a wedding?
No…see! That's where we do the day by day! [laughs] I'm so content and happy, and so is he. We might decide that we want to elope and go to Vegas tomorrow, or it might be a beautiful wedding in five years. It will be whatever it is meant to be. We're perfectly happy already – we feel like we're married, we live together, we travel together, we do everything together. And we are happier than a lot of married couples! That's what matters. It's just a piece of paper.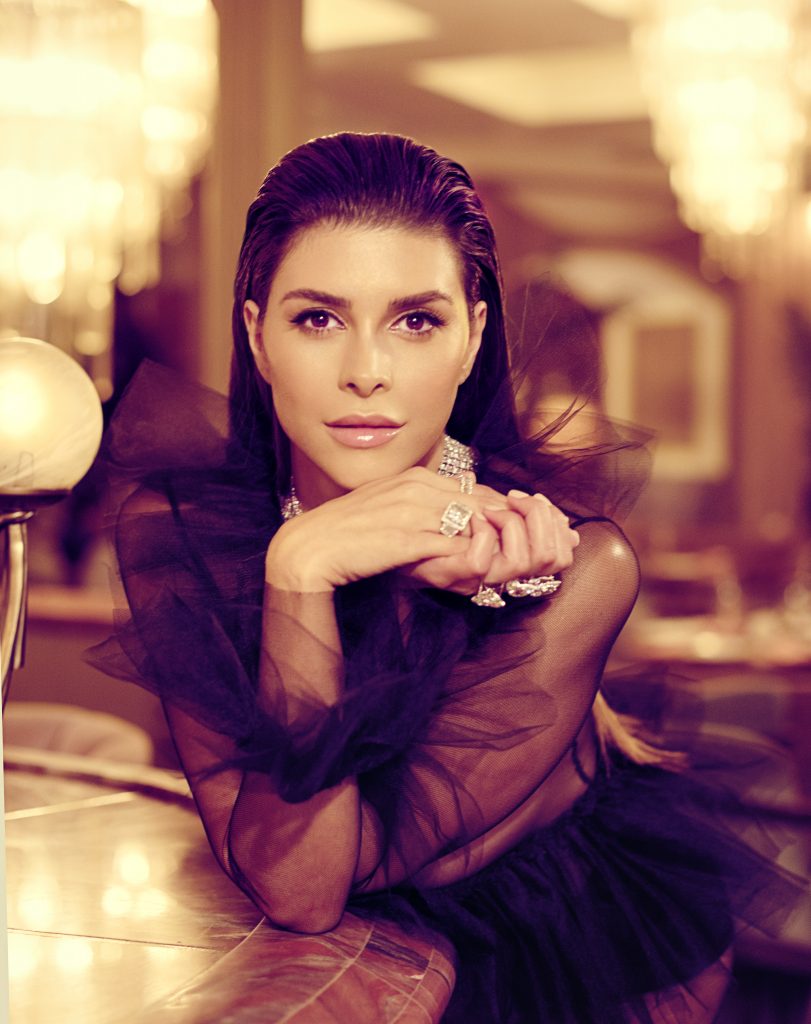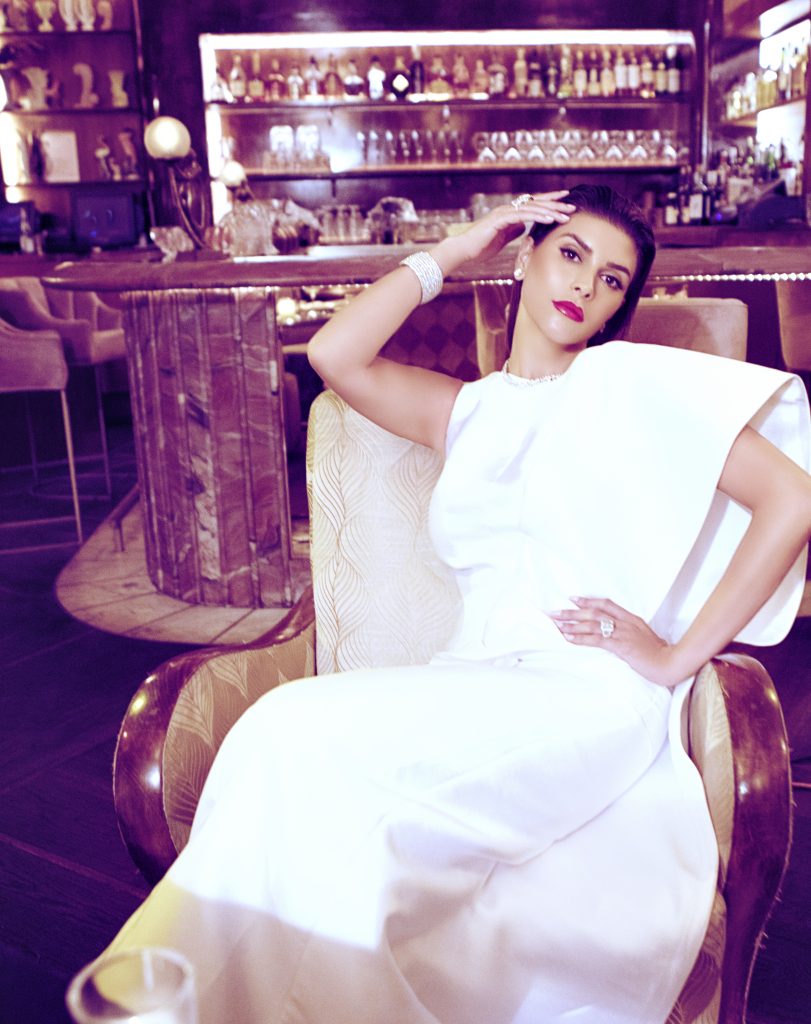 BASIC: What influences your fashion choices?
I've always been interested in more of a timeless look. If you get timeless pieces – a simple black cocktail dress, a great blazer, a great pair of jeans and a white shirt – you'll always feel put together. I splurge on staples instead of statement pieces that may only be good for a season. In the future, I maybe want to put together a lifestyle brand, focusing mainly on entertaining and fashion. I want everything to be timeless, classic – with a twist.
BASIC: Other than classic, how else would you describe your look?
Hmm…I don't know! How would you describe
me? [laughs]
BASIC: Definitely polished. Illustrious. Actually, maybe some
Grace Kelly vibes?
I get that all the time! Which I love! It's funny, when
we went to Cannes in May, we stayed in the Grace Kelly suite. I was just in awe with her photos everywhere. There was one of her with a swan, and we have swans at our house, and I thought, I want a picture like this! [laughs] I haven't done it yet. But I do want to imitate her.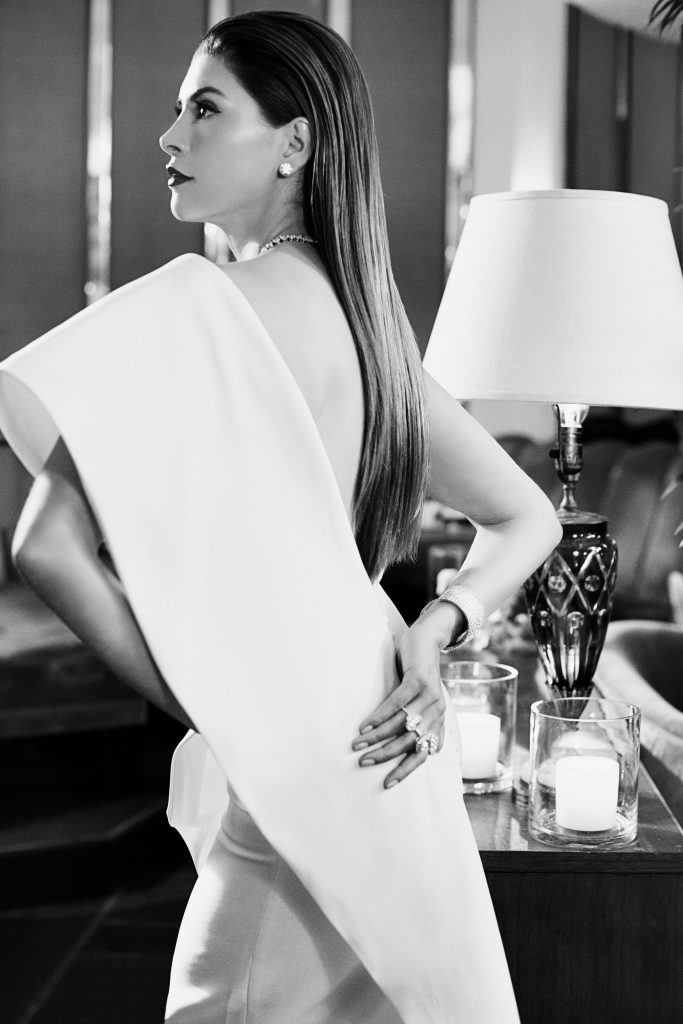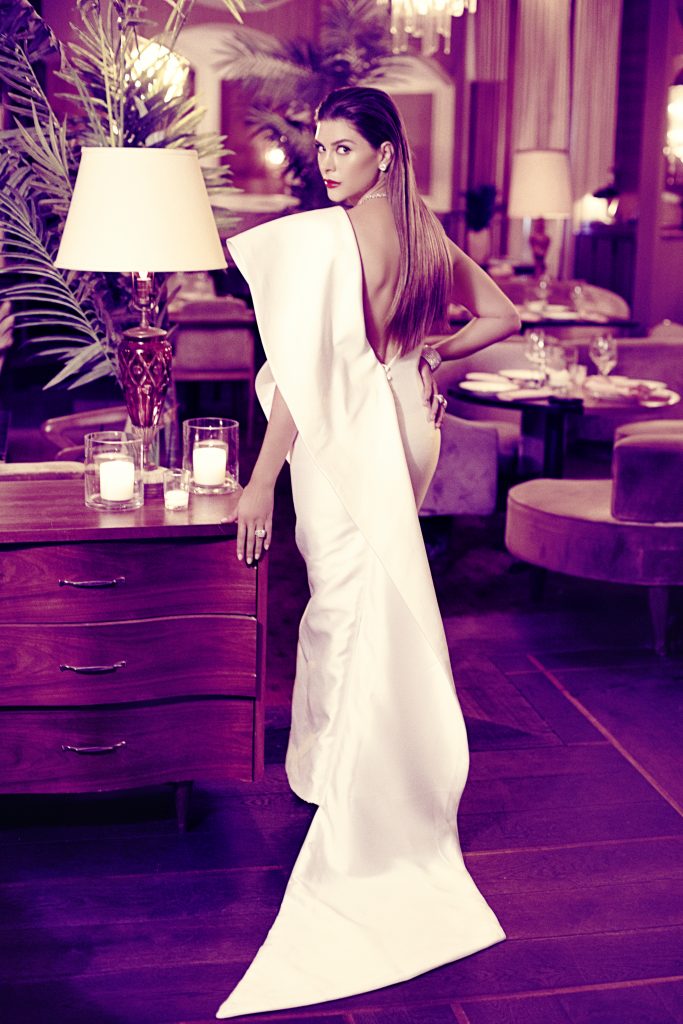 BASIC: Other than classic, how else would you describe your look?
Hmm…I don't know! How would you describe
me? [laughs]
BASIC: Who is your target demographic? Who do you hope is
following along with your life via social media?
Maybe women in similar situations, women who have gone through a divorce. They can see someone like me and think, oh, she's been divorced and she's happy now, she was able to find someone who makes her happy. People are so worried about being judged and talked about. And you know, it doesn't matter. You can be perfect and people will still have something to say.
That's one thing I've learned. It doesn't matter what you do or how good of a person you are, people will find ways to judge you. Criticize you. You need to do what makes you happy.
BASIC: Have you ever let the criticism get to you?
Honestly, in the beginning it was tough. I was new to the whole social media thing and being so open. It just baffled me how people can assume and judge and criticize. But as time went by, I just learned to shrug
it off. I'm not here to make other people happy or to please them, it's about what makes me happy. I think the majority of people know who I really am. And the rest – again, you can't please everyone.
Whisked away to wardrobe, she steps back onto the scene draped in pieces by Silvana Tedesco that look made for her. Frankly, the photos speak for themselves. Turns out it's easy to channel Grace Kelly when you're already cinematic.
Order Issue 6 HERE
Photographer Viktorija Pashuta @viktorija_pashuta
Art Director Roberta Hall @robertadeehall
Production Jackson Chong
Stylist Jesse J. Collections @thetrendhaus
Make Up Jerry Avila
Hair Tre Major
Set Design Oye Decova
Photo Assistant Cameron Noel Dunbar
Photo Assistant George Adams
Executive Assistant Estee Iwaniski
Location DELILAH West Hollywood
SPECIAL THANK YOU TO:
John Terzian & Arnold Bustamante
Intern Cristian Bueno